Sheri is proud to accept the Gold medal for her book Impact & Excellence from the Axiom Business Book Awards in the Philanthropy/Non-Profit category. Please read more about the award and the book below!
"Now in their 9th year, the Axiom Business Book Awards are designed to celebrate excellence in business book writing and publishing by presenting gold, silver and bronze medals in 22 business categories.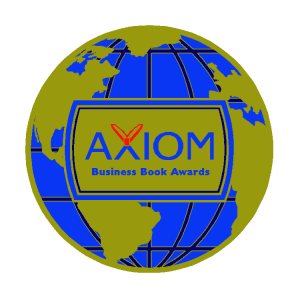 The goal of the Axiom Awards is to recognize the innovative, intelligent, and creative aspects of new business books that make us think, see, and work differently every day.
Business people are always looking for new ideas and solutions to their problems, and award-winning business book authors and publishers fill a niche with their informative and innovative books. The medalists in this prestigious and competitive contest will serve as the premier list of new and innovative works."
---
Award-Winning Book Helps Nonprofit and Government Organizations Overcome Any Resource Challenge
to Become Effective and Impactful
In today's volatile economy, it has never been more challenging or important for nonprofit and government organizations to compete, prosper, and excel. Author and consultant Sheri Chaney Jones notes that the implementation of data-driven strategies are the hidden success factors to organizational outcomes – increased revenues, efficiency, and improved stakeholder relationships among them.
Chaney Jones' award-winning book titled Impact & Excellence: Data-Driven Strategies for Aligning Mission, Culture, and Performance in Nonprofit and Government Organizations is the culmination of a four-year study of more than 200 government and nonprofit organizations in which she found a strong positive relationship between organizational outcomes and cultures that value data and measurement. Despite this, less than a quarter of these organizations have developed these cultures.
Impact & Excellence highlights these findings and presents five strategic elements to success, what the author calls "the Five C's of easy and effective impact and excellence." Based on proven principles, with solutions that are easy to implement, these Five C's often lead to sweeping change.
In addition to utilizing a series of experiences and templates to help leaders overcome common barriers such as lack of money and time to develop a unique action plan tailored to their own organization's particular circumstances, Impact & Excellence also:
Shows readers how to implement a measurement culture that emphasizes strong performance and measurable outcomes
Counsels readers on how to avoid common barriers to developing this measurement culture while learning how to overcome limitations
Demonstrates how to utilize and leverage data to take decisive actions
Offers vivid and detailed case studies from successful nonprofit and government organizations
Each chapter in Impact & Excellence includes discussion questions and action items to help leaders implement key concepts in their own organizations, while readers who purchase the book receive access to Chaney Jones' Measurement Culture Survey and a free benchmark report.
"Nonprofits should not have to struggle with implementing high-performance," explains Chaney Jones, "as there is no correlation between an organization's size and budget and its ability to adopt these cultures. Impact & Excellence was written to make how to accomplish these success factors accessible to every leader."
For her efforts to help leaders enable their social sector organizations to prosper and compete in today's economy, Impact & Excellence received a gold medal from the Axiom Business Book Awards in the Philanthropy/Nonprofit/Sustainability category.
Chaney Jones comments, "My dream is to see all government and nonprofits strive for high-performance. Impact & Excellence is my tough love letter to the social sector.  The research results the book is based on are so powerful, I knew they needed to be shared with all nonprofit and government leaders. My goal was not only to prove that creating high-performance measurement cultures are essential for social sector success but to show leaders how to do this with my five practiced, proven, cost-effective steps."
"With Impact & Excellence, Sheri Chaney Jones makes the case that great leadership, a high-performance culture, and the right success measures are three essential ingredients for impact and effectiveness. Organizations that focus on only one will struggle, do harm, or ultimately fail." ~ Mario Morino, Chairman, Morino Institute; author, Leap of Reason: Managing to Outcomes in an Era of Scarcity
Impact & Excellence: Data-Driven Strategies for Aligning Mission, Culture, and Performance in Nonprofit and Government Organizations by Sheri Chaney Jones; Jossey-Bass; Nonfiction; Business & Economics/Nonprofit & Government; Hard Cover 978-1-118-91111-2 $38.00; eBook $19.99
Available: amazon.com, bn.com, wiley.com, and measurementresourcesco.com
Author: Sheri Chaney Jones is the president and founder of Measurement Resources Company. She has over fifteen years of experience helping government and nonprofit organizations achieve performance and budgetary goals. At the Ohio State University, Sheri teaches Creating Measurement Cultures as part of the Ohio Certified Public Manager's Program. She holds a master's degree in industrial and organizational psychology from Central Michigan University and is a member of the American Evaluation Association and the Ohio Program Evaluators Group.